This trip was primarily because my friends and I were going to take the PhilNITS Certification Exam over at the University of San Carlos, Talamban Campus in Cebu. But while we're at it, we decided to plan along some activities to make the trip more like a vacation than an exam– more fun and fulfilling!
---
October 24, 2014 — We arrived at the Iloilo International Airport around 5:30am, awaiting our 6:50am scheduled flight bound for Cebu. It was intentionally early so we can get to pick our seats on the plane (Dibs on the window seat!). Our flight got delayed by a little bit, but after much waiting, we finally boarded on the plane and headed off to Cebu.
Touchdown at Mactan International Airport. Our first order of business while we're at Mactan was to visit the Lapu-Lapu Shrine.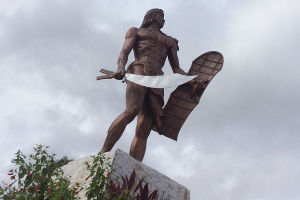 There are stalls at the plaza that sell various souvenir items for surprisingly affordable prices. This is definitely one of my go-to places in Cebu if ever I plan on getting a lot of souvenir items!
After our stroll at the park, taking pictures, and buying souvenirs, we took a cab and headed on to the mainland. First stop here is JCentre Mall where we'll be having our brunch (did I mention nobody had breakfast yet?). We arrived a tad early so we had to wait until 10am when the shops and restaurants open up.
Jonies Sizzlers and Roast — First restaurant of the day! One thing I like about this restaurant is that they offer "Unlimited" rice AND iced tea. The offset however is that the side-dish is often not enough to go with the rice, unless the ratio of your rice to side dish is a whole lot bigger.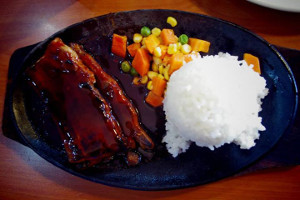 After the brunch, we headed off to check-in at Ford's Inn— probably the nearest Inn to the University I could find. I've actually grown fond of this inn after staying here twice now because of its accessibility and friendliness of the staff. The rooms are also clean, the beds big enough for two, and the thing that I'm really picky with– the bathroom is clean and big. The most economy room is a bit pricey at P1,650.00 per night for 2 pax, but hey, when there's a FREE breakfast buffet every morning from 6:00am to 9:00am, how can you argue with that?!
We settled our things and rested up for a bit before heading out to SM City Cebu for some roaming around and shopping. My first stop here, is no other than the game shop I WISHED had a branch in my home city, Data Blitz. It was the release date of Fantasy Life 3DS, but unfortunately, they weren't going to get the copies until next week (bummer!). I did however find a discounted copy of Animal Crossing: A New Leaf, so I decided to get that instead!
After a couple of hours, it was time to pick another restaurant where we'll have dinner!
Sunburst Fried Chicken — A restaurant that serves (yeah, you guessed it!) Chicken! So we ordered some Chicken! Well the reviews are right about this restaurant, their chickens were indeed delicious!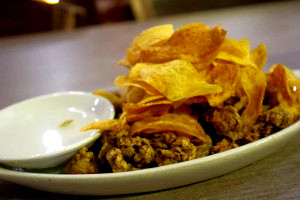 Finally, it was time to head back to the Inn and wrap up the day!
---
October 25, 2014 — We all overslept and woke up around 10:00am. That means we actually missed our first day's free breakfast buffet at the Inn. But no matter, we decided to just skip breakfast and have lunch at another restaurant. So we got up, got ready, and took a cab to Ayala Center. I've only been here once and I wasn't even able to navigate the entirety of the mall, so it was fun getting lost a lot! Once we figured out where the restaurants were, we decided to have lunch!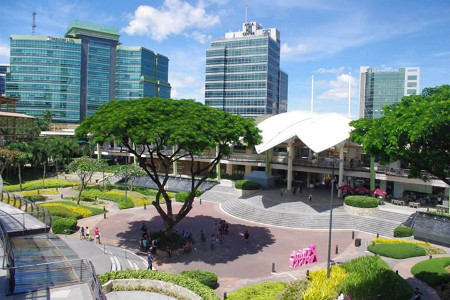 Gerry's Grill — Probably the only affordable-looking restaurant at lunch hour with vacant seats… outside! You'd have to line up in a queue if you wanted to dine in the air conditioned room, but seeing how hungry we all were, we just sat outside. Luckily, it wasn't as hot as we thought and we were in a good amount of shade!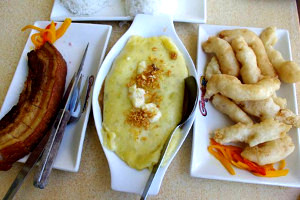 We ordered some Lechon Kawali, Beef Casserole, Fish Fillet, and an Ice Tea Tower. The Beef Casserole was kind of new to me since I've never eaten beef with mashed potatoes before, but it tasted alright. The Fish Fillet was just how I liked it– soft and doesn't crumble when you take a bite, and whatever they put in the sauce goes really well with it!
After a very FULLfilling lunch, we split up and went around the mall. My friend and I headed off to Fully Booked first to check out some books (he's the bookworm type). After about an hour of browsing the 3-floored shop, we decided to head off and roam around some more. Among the things I bought was this, for a friend who BADLY wanted it (despite not being able to pay full price on it) and told me not to underestimate the power of an irrational Otaku.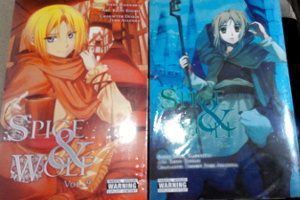 We went around the mall a couple of times until we eventually got tired and decided to pick a place to just chillax for a bit while waiting for our other friends, so we sat down at:
The Coffee Bean and Tea Leaf — I didn't really notice anything worth mentioning here besides being the typical coffee shop place. I just bought some iced latte for myself and decided to play with the Animal Crossing game I just bought while we waited.
A couple of moments later, our friends arrived. We stayed there for a while, killing time until about 6:00pm and decided to head off to our next destination for dinner!
La Vie Parisienne — The place looked amazing in pictures and had good reviews, it was so irresistible that we just had to make this one of the highlights of our trip. The first thing you'd notice from the front is a bit of pretty lights, and the sweet aroma of a bakery. Going inside, there's a whole lot of cakes, pastries, cheese, and a room containing their wine library.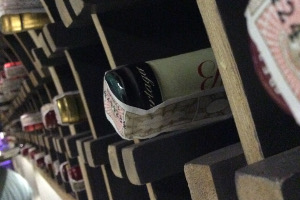 At the back is a big door that leads to the tables, and it really looks amazing! Although you might want to visit this place at night if you want to view this pretty sight.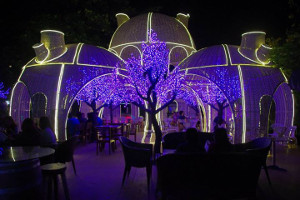 We got around and sat down at the back area, then took turns ordering some cake (since those are the only ones we can afford! Haha). They all looked really sweet and delicious, though the strawberry one had a slight taste of alcohol on it.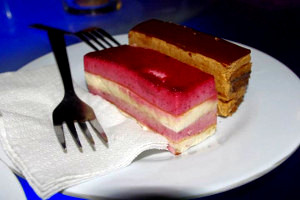 At the back area, there was some sort of stall which at first I thought was part of La Vie, but turns out it was entirely different!
World Pizza and Ice Cream — Pizza! Pizza! A wide selection of pizzas from different countries around the world! It's all sorted by country in their menu:
We didn't even know where to start choosing! So I just asked the chef what their best-seller was, and we got that!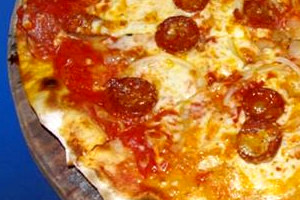 Of the three pizzas they mentioned, I opted to pick the Andalouse pizza because it's meat + cheese and no unwanted veggies!
After much eating, we headed back to the Inn early so we could have some final (crunch time!) reviews for the next day's exam. Heck it didn't even feel like we went there for the exam in the first place because we were having so much fun exploring places and food!
---
October 26, 2014 — Exam Day! With the help of my friend's insanely loud and obnoxious morning alarm, we managed to wake up early and got ready. We headed up to the Inn's restaurant/function room and had our buffet breakfast before getting back down and prepared to head off to the University.
Fast Forward! The exam was hard as usual, and there are topics I'm not really familiar with at all because it wasn't on our field of focus. Nevertheless, I should probably brush up on those next time.
After the exam, we headed back to the Inn and ordered some Jollibee for lunch, delivery! We rested for a couple of hours before heading out again, this time splitting up. Two of my friends headed off to JCentre Mall to buy something for someone, while my other friend and I went to the bus terminal to check out the trip schedules to Bacolod for the next day. For future reference, I may as well post them here: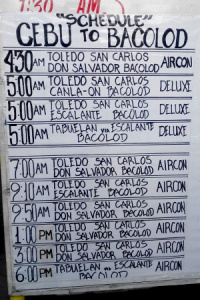 We all agreed to rendezvous at SM City Cebu afterwards but my friend and I arrived there a tad earlier from the bus terminal, so we roamed around for a bit until we decided to eat!
The Old Spaghetti House — A place of pasta and pizza, but probably one of the items I love most in this place is their lasagna. So I got some of that, and a bottomless iced tea.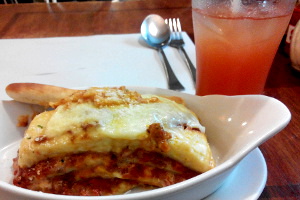 Unlike the lasagnas I usually eat back home, this one is very cheesy and is more on the sweet side. The texture is really smooth and soft, I could drool just thinking about it! Definitely something I would always return to every time I travel to Cebu!
Our two other friends arrived shortly, and we had to pick a place to have dinner next!
BonChon Chicken — At first I didn't really understand how their menu worked. Turns out you pick a cut of chicken first, then choose a flavor of either sweet, spicy, or with sauce and fried garlic. Although I was still full from the lasagna I just ate, so I just ordered some of their Ko-Yo Blueberry ice cream.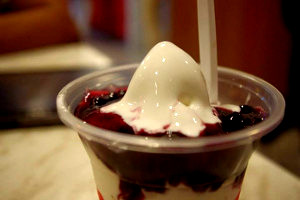 Because blueberries, it was more on the sweet side!
We roamed around some more after dinner before finally heading back to the Inn and packing up for our trip to Bacolod on the next day.
---
October 27, 2014 — Last day at Cebu! This was going to be an entire day of travel on both land and sea as we make for the City of Smiles. We kind of overslept a bit, so we hastily got ready and had our breakfast buffet. Made sure we didn't leave anything behind, checked out of the Inn, and caught a cab to the bus terminal!
There were a whole lot of people when we got there, and sadly, we missed our intended 10:00am trip! So we had to wait for the next trip which was around 12:00pm. After 2 hours of boredom, it was finally time to get on the bus! That's when the "I don't want to go yet" feeling kicks in, but it was time to leave!
We got to Toledo City, Cebu at around 3:00pm, then we had to get off the bus and get tickets for the barge which cost around P110. The bus fare amounts to P350 in all, so that's P460 for the entirety of our trip (way cheaper than when taking the plane!). The barge departed at around 4:00pm with the bus on board and we arrived at San Carlos City, Negros Or. around 6:00pm. I'm not sure what that was but we crossed by some stench as we made our way into the pier.
As soon as we got off the barge, it was back to the bus and proceeded heading up the Don Salvador Benedicto mountain route. The say the place was really beautiful but since it was nightfall, we really couldn't see that much. It was a very long trip, and I had to fight off the feeling of dizziness and nausea caused by the turns of the mountain path. It's odd because I don't usually feel like that, maybe it was because of the fact that it was night time, I can't see the turns so my body can't prepare for it as much as it could if we traveled during the day.
It was a long 3 and a half hours before we finally arrived at Bacolod, the City of Smiles, around 9:30pm. We took a cab straight to Middletown Inn, while it's not the best place around, it certainly is very affordable!
We settled our things down and headed out for dinner!
Manokan Country — I've been to Bacolod a lot of times before but I've never really tried this place not once! It's a building with different stalls with different names all selling chicken! We picked the one most recommended by the reviews, Aida's! It's actually quite affordable; you choose which part of a chicken will you be ordering– so we all ordered the breast, and a liter of coke. What's funny is that when our order got served, they didn't give us any spoon or fork. We asked for them and they washed four pairs for 4 of us, but upon looking around, we notice nobody is using spoons and forks! It was all by hand, if only we knew, we could've just dug right in.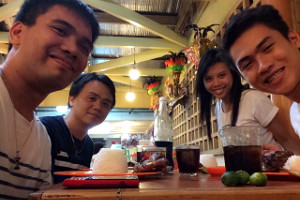 It was a very refreshing dinner after a very long trip! We finished up before heading back to the Inn to get some sleep.
---
October 28, 2014 — The day we head back home to Iloilo City! But not before making one last stop!
Bacolod Cupcake Cafe — How do I describe this place? It's probably as enchanting as the candy house from Hansel and Gretel! Cakes, cupcakes, and shakes! Although the items are pretty pricey, the presentation just makes you wow! We ordered different flavored shakes for each of us, and their signature item: The Rainbow Cake!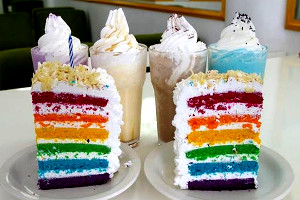 I honestly didn't expect to give up finishing the cake after eating about 3 layers. I would recommend eating the 1/4th slice of this cake with 2 other friends as it can really make you full so easily. The sweetness level is just right for something that looks so sweet!
I mean look at that cake! Makes you just want to stab it and do the noms!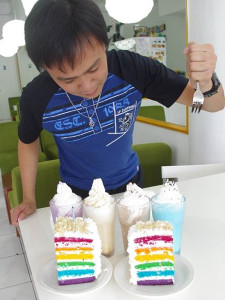 From here we headed straight to the pier and took a boat ride back to our home city!
That was our five days of awesome! At least even if we didn't pass the exams (but I really hope we do!), the trip itself was already worth everything we spent for! Maybe even more! I've also grown very fond of Cebu, it's probably all the shops and restaurants that still don't exist here in my home city. Especially the restaurants!
Well, that's about everything I could write about the trip, thanks for reading!